Lake Staffelsee
The Staffelsee enjoys great popularity as a swimming lake. Its water is mild, contains moor mud and heats up quickly. Regular purity measurements guarantee good water quality. Ice skaters, ice hockey players and Bavarian curling enthusiasts enjoy the huge frozen surface in the winter.
Lake area: 766 ha
Length of shoreline: 18,290 m
Greatest depth of the lake: 35 m
Altitude above sea level: 648 m
Circular walking tour: 22 km
7 islands give the lake its special character:
Wörth, the largest island, features a farm and a small church as well as archaeological excavations
Buchau, camping site
Große Birke
Kleine Birke
Jakobsinsel
Gradeneiland
Mühlwörth (also called Rabeninsel)
The neighbouring municipalities are Murnau, Seehausen and Uffing.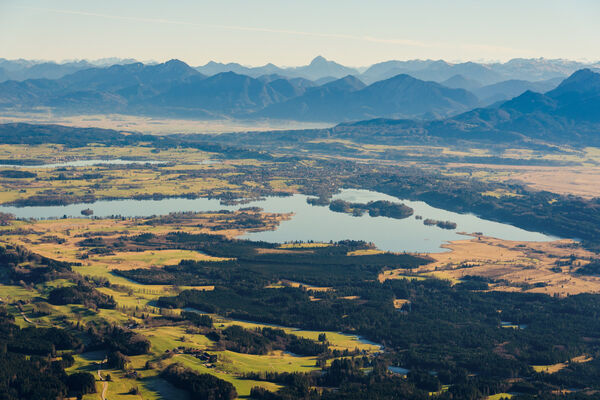 freely accessible / always open
The island of Wörth is the largest of seven islands in Lake Staffelsee.
Details
Anglers appreciate the Staffelsee for its variety of fish and its scenic attraction.
Details
This great tour around the Staffelsee can be easily managed with trekking bikes, because it takes place on asphalted roads and forest roads.
35,3 km
3:00 h
283 m
281 m
Details